KENT to Celebrate Grand Opening of Iowa State University KENT Feed Mill and Grain Science Complex
posted on September 05, 2023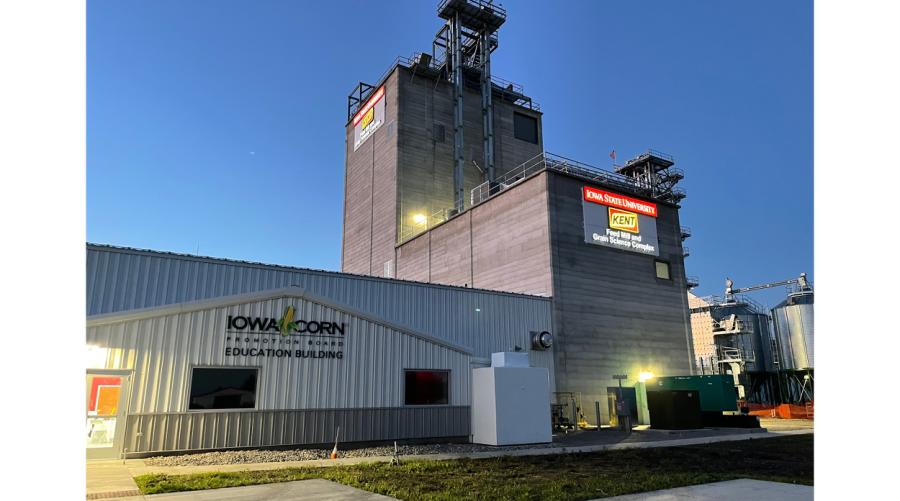 MUSCATINE, Iowa (September 5, 2023) — This Friday, KENT Corporation will celebrate the grand opening of the Iowa State University KENT Feed Mill and Grain Science Complex, to which the family-owned company gave the lead $8 million gift. A dedication and ribbon cutting at the site of the new facility will commence at 3 p.m. in Ames on September 8, 2023.

"The contribution celebrates a 100-year commitment to the success of generations of people engaged in livestock production and agriculture," said Gage Kent, KENT Corporation Chairman and CEO. "KENT is proud to partner with those working to advance new technologies in the feed and grain markets. This complex is a hands-on platform to further advance innovation and sustainability for future leaders in feed and grain processing."

The 47,000-square-foot complex includes a warehouse and an educational building with an analytical laboratory, pilot plant, a 100-foot-tall concrete milling tower, a 40-foot-tall pelleting plant and 220,000 bushels of steel grain storage with handling and drying systems.

"It is incredibly rewarding to have been part of this project because we at KENT Nutrition Group know it will provide an authentic, challenging and fun learning environment for students and industry professionals," said Mike Gauss, President of KENT Nutrition Group. "This industry is intrinsically linked to our everyday lives; teaching that, in this real-world way, will be meaningful to all involved."

As the need for moving grains from Field to Family™ continues to grow, the Iowa State University KENT Feed Mill and Grain Science Complex will prepare the next generation of workers in related technological advances in efficiency and safety.
About KENT Corporation
With origins in the livestock feed business, today KENT Corporation is a diversified, family-owned company headquartered in Muscatine, Iowa (USA) with operating subsidiaries involved in corn wet milling, the production of animal feeds, and the manufacture of food, beverage, and pet products. KENT is led by third generation family member, Gage A. Kent. KENT serves customers across the world and employs approximately two thousand people in 40 locations across 20 states and seven countries.