KENT Precision Foods Group Introduces PKLfreeze Pickle Pop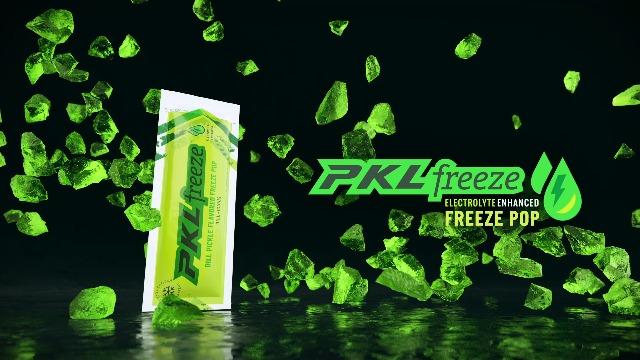 Tasty alternative to sweet hydration solutions
Dill pickle flavor freeze pop puts jar back in fridge
MUSCATINE, Iowa (April 1, 2021) -- Kent Precision Foods Group (KPFG), a member of the Kent Corporation family of companies, announces its latest creation and new brand – PKLfreeze™ dill pickle flavor freeze pop enhanced with electrolytes. This new brand and product lineup will be available April 1, 2021 on Amazon and will follow in other Kent Precision Foods Group segments.
"This is the tasty alternative to sweet hydration solutions," said Mike Eversmeyer, KPFG President. "It puts the pickle jar back in the fridge and offers families, athletes and hard working men and women a convenient format for a treat or a recovery agent."
"It's exciting to expand our product lines but even more exciting when you get the opportunity to add a new brand," said Bryan Elmore, KPFG Brand Manager. "The innovation of PKLfreeze™ combines our expertise in hydration and freeze pops, along with our existing technologies in making and preserving pickles."

KPFG combined the technology from its widely-respected electrolyte brand, Sqwincher® with its pickle knowledge from the Mrs. Wages® 1 Step Pickle® line to craft this tasty dill pickle flavor freeze pop with added electrolyte benefits.
Athletes are often found consuming pickle juice for its hydration benefits and some claim it aids in muscle cramp relief.
"The enhancement of electrolytes was very important so that PKLfreeze™ delivers that replenishment and hydration consumers are expecting that's often associated with pickle juice. Going beyond a frozen treat with this unique flavor was always the goal for this product," said Elmore.

www.PKLfreeze.com or (800) 442-5242

To inquire into purchasing this product visit www.PKLfreeze.com or call KPFG at (800) 442-5242.

Follow PKLfreeze™ on social media:
Facebookhttps://www.facebook.com/PKLfreeze/
Instagram https://www.facebook.com/PKLfreeze/
Twitter https://twitter.com/pklfreeze
About Kent Precision Foods Group
A member of the Kent Corporation family of companies, Kent Precision Foods Group is a dry and liquid-blending packaging food company specializing in rigid and flexible packaging, while providing high-quality branded and custom products for customers in the food service (domestic and international), industrial and consumer products businesses.
About Kent Corporation
Kent Corporation is a diversified, privately-held corporation with operating subsidiaries involved in corn wet milling, the production of animal nutrition and the manufacture of high-quality food, beverage, pharmaceutical and pet products. Kent is led by third-generation family member Gage A. Kent. The Kent family of companies serves customers across the world and employs approximately 2,000 people in 40 locations across 20 states and seven countries. Kent Corporation is a 2020 US Best Managed Company.
Contact:
Carol Reynolds, Corporate Spokesperson
Office: (563) 264-4532
Email: carol.reynolds@kentww.com