KENT Hosts Food Drive in Recognition of National Ag Day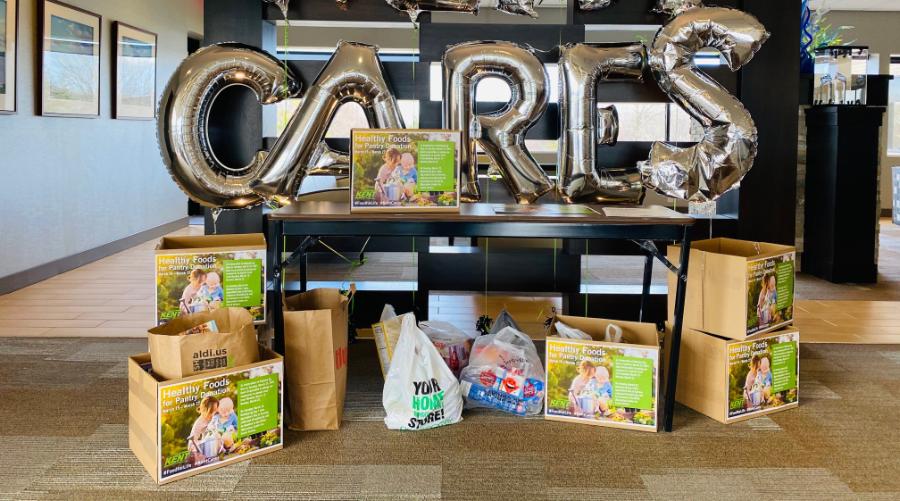 Nearly 700 lbs of food donated to local pantry
MUSCATINE, Iowa (March 23, 2021) — In celebration of National Ag Day and Iowa Agriculture Day of Service, both observed on March 23, Kent Corporation has donated nearly 700 pounds of food to the Muscatine Center for Social Action, an organization which provides housing, basic health care, and educational support services for those in need in Muscatine County.
Kent Corporation employees gathered donations throughout the week of March 15 as part of Iowa Secretary of Agriculture Mike Naig's call for Iowans to participate in the day of service. This highlights Iowa's agriculture contributions to the rest of the country and the world, as well as the state's capacity and willingness to give back with support from Iowa's diverse array of agricultural industries. Significant contributions to the food drive were also provided by Kent Precision Foods Group, which donated product in conjunction with employee giving.
Kevin Fields, Kent Corporation President and CAO helps unload donated food at the Muscatine Center for Social Action on National Ag Day / Iowa Agriculture Day of Service, March 23, 2021.
"One of Kent's top priorities is giving back, while also doing all that we can to culminate our employees' enthusiasm for community service," said Mike Eversmeyer, president of Kent Precision Food Group. "On National Ag Day and Iowa Agriculture Day of Service, we believe it is only appropriate to extend support through food security initiatives, especially in Muscatine, which has deep roots to our family business, and is home to many of our employees and their families."
Since 1973, National Ag Day has been acknowledged as a day to increase public awareness of agriculture's vital role in our society.
"National Ag Day and Iowa Agriculture Day of Service is a great opportunity for Kent to showcase the value that Iowa's agriculture industry holds in people's lives," said Carol Reynolds, vice president of Human Resources, Kent Corporation. "As we reflect on the challenges that many Iowa families have faced over the past year, we see this day as an important chance to give back in an impactful way."
About Kent Corporation
Kent Corporation is a diversified, privately-held corporation with operating subsidiaries involved in corn wet milling, the production of animal nutrition and the manufacture of high-quality food, beverage, pharmaceutical and pet products. Kent is led by third-generation family member Gage A. Kent. The Kent family of companies serves customers across the world and employs approximately 2,000 people in 40 locations across 20 states and seven countries.
Contact:
Carol Reynolds, Corporate Spokesperson
Office: (563) 264-4532
Email: carol.reynolds@kentww.com